Working with messages
Availability of this feature depends on the Bria solution you subscribe to.
Available in: Teams Standard, Teams Pro (Legacy).
Not available in: Solo (Free), Solo.
Using Bria, you can preview hyperlinks, search, copy/paste messages and export conversations.
Searching messages
You can use the search feature to find a message in an IM or group chat using a Room Name, name or a keyword.

To search in messages
Type the Room Name, team member's name or search keywords in the Search Messages field. Bria filters the sessions that contain the search words.

Bria displays the chat room and IMs that contain the search word.

Click the chat room or the IM that you want to view.
Bria displays the messages in the chat room or IM that contain the name or keyword. When you have scrolled through all of the messages containing the search keywords in a chat room, you see No more messages.
Clear Search Messages to see all of the messages in the chat room or IM.
Copying and pasting messages
You can copy messages from Bria and paste within the Bria or in another application.

To copy and paste messages
In the Messages window, highlight the message or messages that you want to copy.
Bria places the messages on the clipboard. You can paste the messages in Bria or in another app on your computer. Formatting from the original message is not retained.
Previewing hyperlinks
When you send or receive a message with a hyperlink in it, Bria can show a preview of the hyperlink in the message.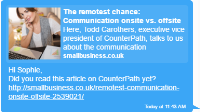 To control hyperlink previews
Click

Preferences

on the

Softphone

menu (Windows) or the

Bria

menu (Mac).
Select or clear

Show hyperlink preview on messages

.
Bria either shows or removes previews for all the hyperlinks in Messages.
Exporting messages
You can export instant messages and chat room messages into a .csv file.
When you close or leave a chat room, you no longer have the conversation history. If you want to keep the messages, export them first.

To export a conversation using the More menu
Click on the message you want to export.

Click More options for this contact (Windows) or More options for this conversation(Windows and Mac).
Bria saves the session as a .csv file in the location you selected. Formatting from the original message is not retained.

To export a conversation using the shortcut menu