Setting up your voice service provider
Bria supports the use of Internet Telephony Service Providers (ITSPs) and custom SIP servers (your PBX).
If you are subscribing to Bria Teams, you already have Team Voice account configured for making calls between team members. Read this topic if you already have a voice service or PBX that your team has been using and you want to use that with Bria to call non-team members. Enter information about your voice service provider on Bria Portal. It appears as a second voice account for your team members to make calls, in addition to the pre-configured Team Voice account.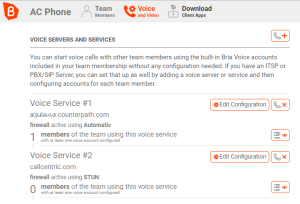 Getting the information
Your service provider or IT department can give you all the details you need to add SIP or ITSP information to your Bria Portal. Contact your service provider for the list of settings.
The information you need consists of two parts: the server information that is shared among all users (such as a SIP server URL), and the user-specific information such as user account and password.
Not all settings need to be specified when you set up a SIP account. Your service provider can advise as to which settings are necessary.
Enter the information into
Bria
After getting the information about your voice service, enter it using Bria Portal.
In Bria Portal menu, click Voice and Video. The Voice and Video page opens.

Click Add Voice Configuration. The Add Voice Service screen opens.

Click either Configure SIP Settings or Select from Providers.

Fill in the form with the server settings:

Server configuration details

Service label

- Enter a friendly name for the PBX/SIP server. This name helps end users to differentiate between PBX/SIP servers in

Bria

.

Domain

- This is the address of your PBX/SIP server, such as zippy-phone.com or acphone.com.

Port

- This is the specific port number on which

Bria

communicates with the server at the specified domain.

SIP proxy

- Optional. If it is required by your provider, or if your enterprise deploys a Session Border Controller (SBC), this specifies a proxy to use. Port number can be configured as well by separating the domain or IP and the port number with a colon (for example sipproxy.acphone.com:5057).

Transport

- This is the communication protocol used between the server and

Bria

(TCP, TLS, UDP, or Automatic).

SRTP

- This field becomes active when you use

TLS

for Transport. When enabled,

Bria

always encrypts calls, both outgoing and incoming. When disabled,

Bria

never encrypts calls; encrypted calls are not allowed.

Self-signed certificate support

- When enabled, the

Bria

clients accept the SSL certificate for TLS without attempting to verify it. Enable this option when your SIP server uses a self-signed certificate as opposed to a certificate trusted by well-known Certificate Authorities such as VeriSign.

Registration time

- This is how often in minutes that a client must send a re-registration message to the server to verify that it still exists. (Optional)

RPort

- The RPort parameter allows the clients to request that the SIP server send the response back to the source IP address and port from which the request originated.

Keep alive

- When enabled, the

Bria

clients send keep alive messages in order to maintain a "pinhole" through your firewall for SIP signaling.

Voicemail

Voicemail number

- This is the local number to dial to listen to voicemails, such as *98 or 55000.

Firewall

Method

- The method used for the firewall in your organization, such as STUN, ICE, or TURN. Choose None if no firewall is deployed in your network. If STUN or TURN is used, ask for the server URL or IP address of the STUN/TURN server, and login credentials if required by the STUN/TURN server.

Firewall server URL

- The URL or IP address of the STUN/TURN server.

Firewall user/password

- The credentials for logging into the STUN/TURN server. Enter if required by your STUN/TURN server.

If users need a unique SIP username for each device they are using, see Multi-device Configuration. Most SIP servers do not require device specific credentials.

Do one of the following:

Click

Add Voice Configuration

to add a voice account to each team member.
Enter

Extension/Username

,

Voice Password

, and

Call Display

.
Click

Save and close

.
Test the setup
Log into your Bria client to see if the custom SIP account can register.
On desktop, click the arrow beside Auto Select. On mobile, go to Bria Settings > Accounts. You should see both accounts with a green icon.
The user may need to log out from their Bria client and log in again for the changes to be visible to them.

If the custom SIP account does not register
If you can log into the client, but the custom SIP account is not working, it might mean that your custom SIP account is not registering to the service.
Make sure that you entered the correct information about your SIP server on the Bria Portal. Pay special attention to firewall settings. Contact your IT representative for help with firewall settings. Contact your service provider for help with SIP server settings.

Make sure that you entered the correct SIP username and password in your member details. This must match the user's credentials provided by your SIP service provider.

Check if other users can connect to your SIP server. If many users are experiencing issues with registration, it may be an issue with your SIP service provider.
Configuring codecs and dial plans
Optionally you can select which codecs to enable, as well as setting up dial plans for your custom SIP account.
Editing a voice server configuration
To change the server information that you previously saved, click

. When done, click Save and Close. The changes you made will take effect next time team members log into Bria.
Deleting a voice server configuration
To delete a voice server configuration, click

Remove Configuration. Removing the server information also deletes a voice account from team members if configured. Team members will see the account removed next time team members log into Bria. You can remove the voice account from a team member rather than deleting the voice server configuration.
Some changes require team members to restart or re-login to their client applications. These changes are identified by

Restart Client Apps.

About this document
Copyright ©2019 CounterPath Corporation. All rights reserved.
This document contains information proprietary to CounterPath Corporation, and shall not be used for engineering, design, procurement, or manufacture, in whole or in part, without the consent of CounterPath Corporation. The content of this publication is intended to demonstrate typical uses and capabilities of Bria Solo/Teams Portal from CounterPath Corporation. Users of this material must determine for themselves whether the information contained herein applies to a particular IP-based networking system. CounterPath Corporation makes no warranty regarding the content of this document, including—but not limited to—implied warranties of fitness for any particular purpose. In no case will CounterPath Corporation, its employees, officers or directors be liable for any incidental, indirect or otherwise consequential damage or loss that may result after the use of this publication.
CounterPath®, Bria®, X-Lite®, and the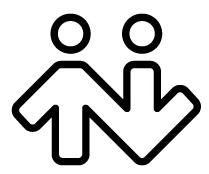 ® logo are registered trademarks of CounterPath Corporation.
Stretto™ and the Stretto Platform™ are trademarks of CounterPath Corporation.
Android and Google Play are trademarks of Google Inc. Eclipse is a trademark of Eclipse Foundation, Inc.
CentOS is a trademark of Red Hat, Inc.
Intel, the Intel logo, Intel Core and Core Inside are trademarks of Intel Corporation in the U.S. and/or other countries.
iOS is a trademark or registered trademark of Cisco in the U.S. and other countries and is used under license.
iPhone, iPad, iPod, Mac, mac OS, App Store, Objective–C, and Xcode are trademarks of Apple Inc., registered in the U.S. and other countries.
Linux® is the registered trademark of Linus Torvalds in the U.S. and other countries.
Microsoft, Active Directory, Office, Excel, Outlook, and Windows are either registered trademarks or trademarks of Microsoft Corporation in the United States and/or other countries.
Oracle and Java are registered trademarks of Oracle and/or its affiliates.
All other products and services are the registered trademarks of their respective holders.
CounterPath Corporation
Suite 300, One Bentall Centre
505 Burrard Street, Box 95
Vancouver, BC V7X 1M3
Canada